Higher quality
Generally speaking, people are able to achieve large-scale production of the graphene oxide (GO) and reduction graphene oxide (rGO), but these products usually contain a variety of structural disorders, such as oxygen functional groups and topological defects, leading to the deterioration of the structure and performance. Suzhou Graphene Nanotechnology Co., Ltd. possesses high-quality products of high quality thin-layer graphene sheets which keep the excellent crystalline of original graphite, intact layer-inner sp2 structure, outstanding electrical and thermal conductivity properties (see Raman and electrical properties characterization).
Wider application
High-quality thin-layer graphene powder, paste and other related graphene products will have important applications in energy, information and other fields due to their excellent and stable performance. Specifically, they can be used in the additive materials and the electrodes of lithium-ion batteries, supercapacitors and other energy storage devices since they can improve the energy storage capacity and discharge rate. These products also have some potential applications in conductive, antistatic and electromagnetic shielding and polymer composite material system. Also, they have a broad market prospect as the high thermal conductivity and radiating materials in consumer electronics and optoelectronic devices.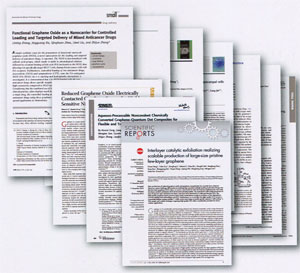 Thinner layers


Realization of high-quality, low-cost, large-scale production of thin-layer graphene is a global technological challenge. Suzhou Graphene Nanotechnology Co., Ltd. has obtained comprehensive technical breakthrough, that is, high-quality thin-layer graphene powder with a relatively uniform thickness of <1nm has been achieved, which looks like thin silk yarn in microstructure (see SEM, TEM characterization). Large-scale production of the industrial product with thickness of < 5nm has been realized.


Lower cost


Based on experience and constant technological innovation for many years, Suzhou Graphene Nanotechnology Co., Ltd. has simultaneously achieved large-scale and low cost preparation of high-quality thin-layer graphene by optimizing the design of the production line and reasonably accounting production cost. Moreover, it has a competitive advantage in the market to prepare the best brand products of high-quality thin-layer graphene at low cost.